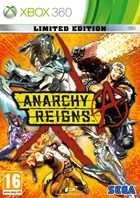 ANARCHY REIGNS™ is een online multiplayer vechtspel. De game is van de hand van 
PlatinumGames
, de makers van BAYONETTA™ en VANQUISH™.
De game speelt zich af in een postapocalyptische toekomst. Het is een over-the-top vechtspel, dat zich afspeelt in een immense open fantasy-wereld. Kies uit een veelzijdige mix van menselijke en cyborg personages en waag je aan een multiplayeruitdaging waar anarchie troef is.
ANARCHY REIGNS heeft een uitgebreide reeks multiplayermodi en spelers kunnen hun krachten meten in team coöp- of knock-outgevechten.
Kenmerken:
Eén groot multiplayerfeest
Tijdens je strijd om als enige op het slagveld overeind te blijven, word je in dit online vechtspel beloond voor creativiteit en geweld. Dankzij 8 verschillende personages waar je uit kunt kiezen, elk met hun eigen unieke stijl, wapen en kenmerkende eindmove, is dit de ultieme "survival of the fittest".
Verschillende spelmodi
ANARCHY REIGNS heeft een gevarieerd aanbod aan multiplayermodi zodat iedereen iets van zijn gading kan vinden. De game kent de volgende modi: Battle Royale, Death Match, Survival Mode en nog veel meer.
Eén speler, twee personages
Je kunt in de ultieme "survival of the fittest" als Jack of als Leo spelen. Zoals altijd bij PlatinumGames geeft elk personage een unieke stijl en sfeer aan de single-player campagnemodus; de game heeft meer dan 10 uur gameplay.
Actie trigger evenementen
Het A.T.E. (Action Trigger Events)-systeem activeert real-time gebeurtenissen zoals het zwarte gat, het neerstorten van een vliegtuig en bomaanvallen zodat de spelomgeving voortdurend verandert wat gameplay betreft. Er zullen nooit twee identieke matches zijn.
DE SOUNDTRACK VAN ANARCHY REIGNS IS NU VERKRIJGBAAR
Die digitale Version des Soundtracks zu Anarchy Reigns ist weltweit über den iTunes Store und andere Webseiten zum Herunterladen von Musik (je nach Land) erhältlich.