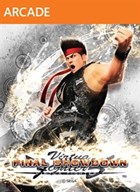 Virtua Fighter 5 Final Showdown bevat de ultieme versie van VF5, zoals die in de jaren na het oorspronkelijke arcadedebuut is verfijnd. De nieuwe release voegt tevens een uitgebreide lijst functies toe die nog nooit eerder op consoles zijn gezien. VF5FS bevat onder andere:
De perfecte vechtervaring:
De contactgevechten van Virtua Fighter 5 in de zo kenmerkende stijl. De mechanismen, balans en timing zijn gereviseerd en de besturing voor nieuwe spelers is vereenvoudigd, terwijl het spel de door veteranen vereiste diepgang heeft weten te behouden.
Dynamische en interactieve arena's:
Vechtarena's in nieuwe vormen en maten, inclusief arena's met hekken en muren die elke ronde anders zijn – profiteer onverwacht van nieuwe vechttechnieken op muren, of breek door de hekken met een speciale aanval.
Een modus voor elk gevecht:
Domineer het klassement met het extreem responsieve Virtua Fighter 5 Final Showdown online systeem voor één-tegen-ééngevechten, dat alom wordt geprezen vanwege de nauwelijks aanwezige latency, of neem het tegen een leger tegenstanders op in de nieuwe solomodus.
Aangepaste strijders:
Betreed de ring met een van de 19 speelbare personages, inclusief de populaire Taka-Arashi uit Virtua Fighter 3 en het gloednieuwe personage Jean Kujo. Pas de personages aan met unieke kostuums en items.